Do you know that a continuous improvement of business processes is a number one priority to the majority of companies? And it's not surprising at all as efficient processes produce greater revenues, lower costs, highly motivated teams, and happier customers. All in all, better processes help organizations become top competitors in any market.
For this reason, business leaders readily make business process management a heart of their corporate culture as even small investments in a BPM program promise significant returns. For example, with a bpm'online CRM suite, enterprises are sure to drive remarkable operational enhancements for any given process and this is just a start of efficiency gains.
In this article, we will provide you with everything you wanted to know about BPM systems.
How Business Process Management Works
BPM software is a computer program developed to deliver continuous optimization of processes with self-analyzing business operations. Such kind of application simulates the behavior of designed processes, recommends workarounds for workflow inefficiencies and even generates step-by-step analysis to make changes within a process.
With a good BPM system like the bpm'online, the companies are able to produce more with reduced operational costs (up to 90 %) and increased quality (up to 70 % — more stats are available at https://www.bpmonline.com/service/business-process-management). How are these results achieved? The answer is obvious – all this is possible thanks to an extensive functionality of a BPM suite, which includes:
Process Designer
This component of a business process management platform serves the main purpose of BPM: process lifecycle management. With help of this designer, your reps can create, model, simulate, execute, monitor, and optimize the core processes. The designing boosts the visibility of the processes, identifies inefficient handovers and departmental gaps and helps eliminate redundant tasks, contributing to a competitive edge for the company. By creating and expanding processes' maps, an organization is enabled to analyze corporate procedures and data flow from a holistic perspective.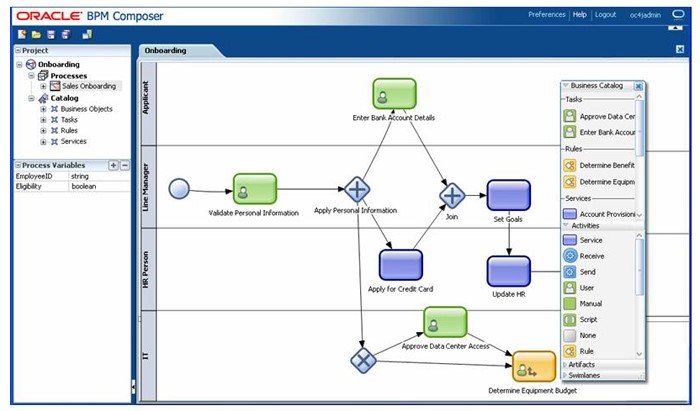 Business Rules Management
The logical statements (business rules) are found in every process or application; they underpin the repeatable decisions and supervise the organizational operations and policies. A BPM rules engine documents, implements, controls, and automates these statements, delivering agility and control in routine procedures. Business rules management, integrated into a highly effective BPM platform, accelerates decision-making and improves the overall efficiency of business processes.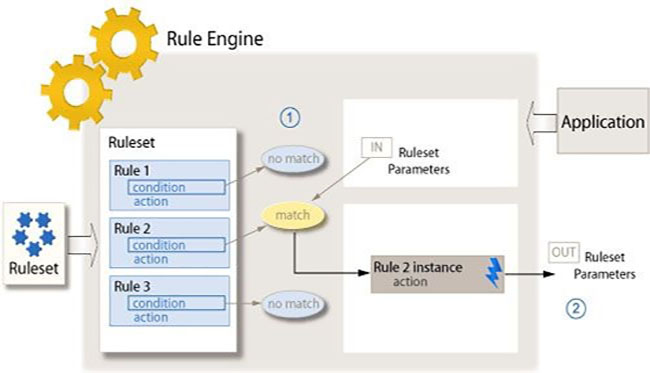 Reports
Ideal business process management provides real-time monitoring of core business processes with KPI measuring, customizable reports and predictive analytics in an interactive user interface like graphs or charts, helping companies improve key processes, forecast market trends, identify customer's concerns, and increase overall incomes. The component provides all the tools to obtain statistical information on the performance of processes and their steps (task instances). With the BPM analytic features, the stakeholders can see the workflows and processes based on different filters, for example, processes in an error state, non-assigned tasks or the escalation of tasks.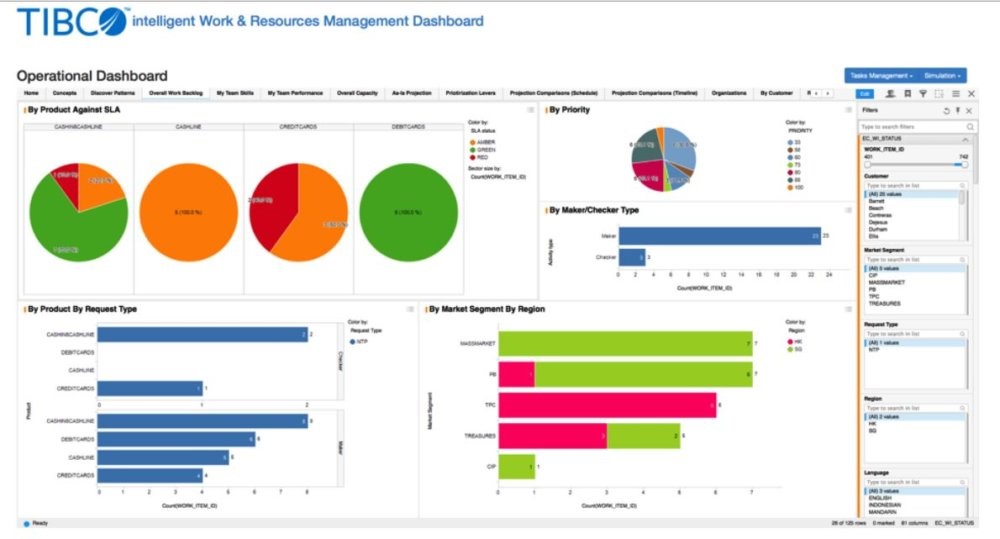 Collaboration
Along with process designing and extensive analytics, BPM software solutions have the capability to bring the people and the knowledge together by creating a unified working environment. The program supports all types of communication within tasks, processes, cases, and projects: group emails, traceable conversations, document sharing, message boards, blogs, instant messages, and video chats. Collaborative tools of good BPM products ensure easy exchange of information that promotes process optimization and automation.
Document and Data Management
Nowadays, every enterprise faces the big data challenge. Advanced business process software provides comprehensive document and data management features that dramatically boost the reps' engagement and productivity. The solution allows for managing (including data import, export, capturing, and storing) all sorts of process-related documents and digital content in a single place. This BPM application also unifies a fully searchable data across processes, tasks, and cases.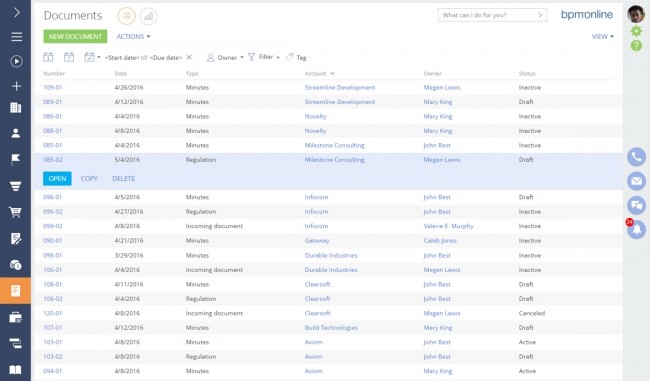 Benefits checklist of Business Process Management
Nowadaysб BPM softwares are a cornerstone technology for organizations that want to grow revenues quickly. More and more companies around the world make the case for business process management systems basing on their three main benefits:
Agility. In the era of ever-changing market trends, agility is an essential ability for any competing company. There are many factors that can force an enterprise to modify their business processes: new opportunities, difficult partners, discerning customers, local or federal regulations and many others. A BPM platform provides the tools for making it possible to change the key processes quickly and effectively. Put it simply, agility drives faster regulatory compliance and an ability to redesign workflows to accommodate unforeseen events and implement new business models.
Efficiency. Before deploying business process management software, many processes have remarkable waste caused by low manual efforts, poor cooperation between departments, and inconsistent monitoring of an overall progress. The integration of BPM helps companies overcome all these inefficiencies by establishing clear goals, assigning responsibilities, and controlling tasks. The efficiency also drives operational transparency and minimizes the risk of loss, fraud, or any kind of errors.
Effectiveness. With fully controlled processes, companies can focus on making the workflows more effective. The teams now can handle exceptions better or make decisions quicker. BPM software tools provide a system of estimated metrics that in a long run lead to boosted process efficiency, increased quality of products/services, improved production, reduced launch time, optimized operational costs, and finally enhanced customer satisfaction.