If your house looks tired and dull and you think it deserves some TLC, it probably is time for a makeover! Of course, revamping a home can be expensive, and if you're on a budget, it can be a deal breaker.
Luckily, you've come to the right place, because giving your home a facelift doesn't have to be costly! Here are 6 tips that will help you revamp your home on a budget.
Do away with the Unsightly Stuff
Before you go shopping for new stuff, take a good look around your house and identify items that have lost their appeal or no longer serve any purpose. From tattered window blinds to faded rugs, out-of-fashion furnishings, and old electronics that are gathering dust, take each item into account and assess its worth.
Throw away items that are beyond repair and donate or sell ones that still have some use left in them. Clearing out stuff will lessen clutter and create space for new items, plus help you see your house in a new light and come up with better décor ideas.
Use What You Have
If you have items stashed away in boxes, glance through them to see if you can find something you can use. Use your creativity and think of ways to bring old items back to life and use them differently.
Additionally, try moving around existing furniture and décor articles- sometimes, just a new arrangement is what you need!
Indulge in Some DIY
Hold off the shopping for a little while longer; you can save yourself a lot of money if you indulge in some DIY instead. What's more, you don't need to be a DIY expert to revamp your home!
Add custom graphics to the arms of your sofa and throw pillows using permanent markers.
Use metallic tape as trimming on lampshades, candles, and vases.
Add lace or trimmings of your choice to curtains and use old necklaces to make curtain tiebacks.
Have chipped cups and plates? Don't throw them away; turn them into tiered trays using some hot glue!
Add molding to walls or ceilings for an elegant touch. Consider covering an accent wall with ceiling medallions of different sizes and designs.
Use nail head trim tacks or thumbtacks to add designs to cabinet doors and drawers. Replace old knobs with new ones, or simply give them a fresh coat of paint.
Create your own abstract paintings on canvas and display them on walls. Alternatively, frame a collection of images and photographs, and hang them where you please. If you don't want to spend money on framing images, simply stick them on the wall and create frames using washi tape!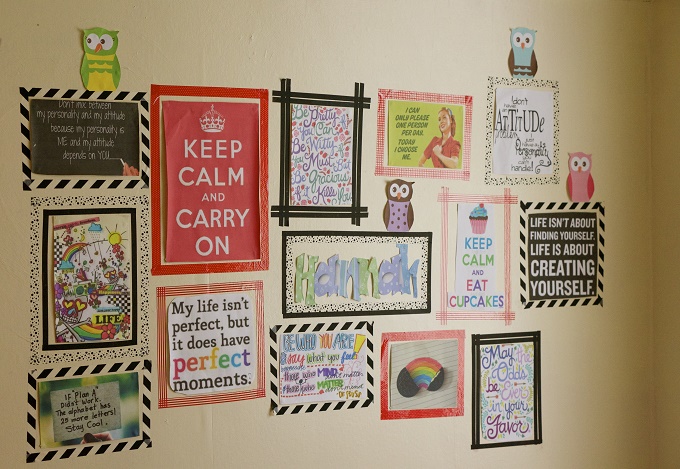 Use Paint to Your Advantage
A little paint can be all you need to spruce things up! If wallpaper is too expensive, consider painting the walls a different color or create accent walls using bright and bold colors.
Create your own designs on walls using tape to mark off areas, stencil designs using paint, or use wall stickers. Further, paint the inside of cabinets or cover them in a wallpaper of your choice. Add a pop of color to your rooms by painting the edges of doors or sides of drawers with bright colors!
Old cabinets, tables, chairs, etc. can also be varnished or painted in bright colors to make them look new. Upholstered furniture can be painted too- use spray paints to make the job easier!
Show off Area Rugs
Area rugs can really brighten up a room without taking a toll on your budget. Clean old rugs first and consider stamping or painting designs onto them. Display them on walls or on the floor to add a unique touch to the interiors.
Another great idea is to layer a small rug over a larger one. You can mix and match prints and colors, but remember to do it right!
Think before Spending
If you must buy new furniture or articles, be wise about it. Start with determining your budget- do consider any extra costs that might be applicable like delivery charges or labor/DIY expenses. Most importantly, stick to your budget and refrain from maxing out your credit card!
Draft a plan so you know what items you need to buy and what work you need to get done. Since you're on a budget, invest in important features that will add value to your home. Don't let this stop you from splurging on items you really love; just wait until you have enough money to spend on art or furniture. And saving money shouldn't be tough if you're used to living a frugal life and adept at availing freebies!
Research prices online and at thrift stores and find where you can get items at bargain prices. When shopping, don't give in to impulses; think of how you'll use a particular piece and if it will fit in with the rest of your décor. Give yourself a day to think over it- you can always go back to purchase it if you're sure you want it!
Furthermore, always invest in quality materials and items- you don't want to spend a lot of money on something that only has aesthetic value.
Conclusion
Now that you've read these tips, you know that you can give your home a makeover without worrying about busting your budget. So get started on it as soon as you can!
Happy revamping!