Are you moving to a new country? In addition, that country operates in a language other than your native tongue. If yes, it becomes quite difficult to re-establish your life (i.e. visas, passports, school registration, utilities, vehicle registration, drivers' licenses etc.). Basically, translation from Spanish to English or vice-versa calls for a native speaker and professional translation firms.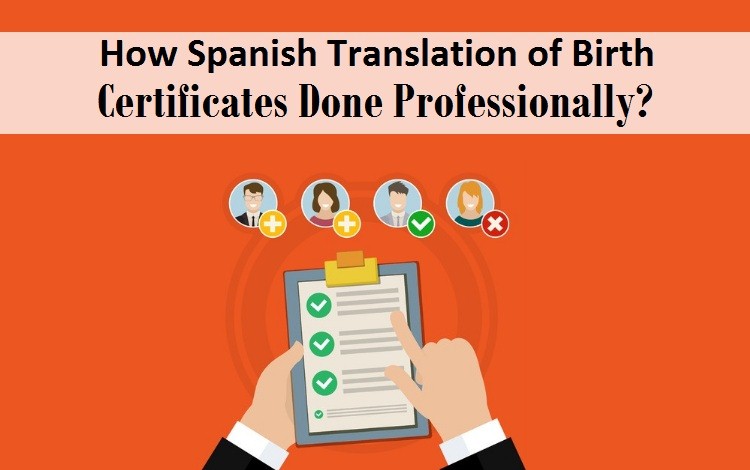 Spanish Birth Certificates Translation
Government entities in Spanish countries require translation of birth certificates to be processed. You cannot expect the documents to be translated by any bilingual friend or any other layman rather a certified individual or agency is needed.
Where to Approach for Recognized Translation Services?
Basically, certified translations of birth certificates or any other official documentation in Spanish offered by a professional agency will be accepted by agencies and copies need to be notarized legally. Translation agencies which serve government agencies will render a certified and notarized copy. At times, professional Spanish birth certificate translation service companies are treated similarly when the individual is not a public notary. Of course, the process may take some time as they need some time to return the translated copy because they will have to visit a notary once the translation is done.
Economical Rates for Spanish Birth Certificate Translation Service
Expert translators make use of specialty DTP programs in order to reproduce certified copy which cannot be distinguished from the original one. Service rates vary from company to company but you must opt for the economical ones offering translation, reproduction, certification and notarization of the document.
On an average, a professionally certified birth certificate or other similar documents takes between 2-3 business days. In case you need the translated copy sooner than 48 hours, you can opt for a "rush" option being offered by the translation companies which may charge you more than the normal fee. Some of the agencies even charge double fee to get the translation job done on short notice.
Spanish Translations for Important Documentation
When you are filing for a driver's license or any other important documentation, it's better to opt for a certified translation firm dealing with the same. And the process of obtaining Spanish translated birth certificate becomes much easier with hiring professional translations services.
Remove Language Hindrances for Smooth Operation
No doubt, translation connects organization and clients all across the globe. It helps to remove cultural hindrances for smooth operations. Certified native professionals translate the content or information into the target language and leave no scope for barriers regarding language. They can successfully circulate necessary messages from one end to another.
Hassle – Free Communication
For an organization, it becomes important to carry forward exact and accurate message. If failed in doing so, the concerned party may wrongly interpret what you are trying to say and affect the sense of message you want to convey. With hassle-free communication, you can put across your message strongly in front of targeted clients.
Credible Spanish Translation Agency
To get accurate and certified translation for birth certificates and other important documentation, going with a worthy Spanish translation agency would be the best bet. Before going with any particular firm for translation services, it's better to have a look over the feedbacks and testimonials given by former clients. It will help you make out the standard of services being offered. Hiring certified native Spanish translation services proves to be a worthy option accurate translation of birth certificates and other important documentation.
Conclusion
In a nutshell, Spanish translation of birth certificates or any other legal document needs to be translated by a worthy agency.
Summary: To get your birth certificates translated into Spanish professionally, hiring certified native Spanish translation services would be the right move. Read on.