Real estate market imposes the basic challenge where inventory is set very low and seller leads are difficult to find. In case you are in this business for a while, you must be aware that there are some benefits to work with sellers in this domain:
It helps in taking up more than one client at a time
It facilitates having more control on time.
It provides the opportunity to represent both sides of a deal.
Taking risky bids in a low inventory market often means reaping higher commissions.
Referrals are highly important and are a great opportunity for a new business. Listed below are the best ways to get more seller leads through Facebook.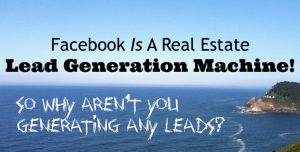 Leverage Your Buyers
When the market is hot focus on generating a high number of solid referrals. Once you are done with the deal make sure to follow up and express to your clients how much you appreciate working with the. Leave a lasting impression by giving them a small congratulatory gift at the time of closing on their new home. If you developed a good relationship with your buyers then leaving them with some of your business cards and asking them to give them to their family and friends that might be in the market real estate is important. Your clients are a great way to gain more leads and get into contact with other people that might want to buy or sell a home. Stay in contact with past clients and make them feel that they still matter even after the deal is done. If clients are satisfied with you and how you handle the business they are going to refer you to their family and friends.
FSBO Listings – For Sale by Owner Listings
Sometimes people might think that selling their own home will be easy and hassle free. Most the time this is not the case, because there is a lot of work that goes into the transaction. For sale by owner usually results in inexperience, limited resources, overpricing, and poor marketing. Take a look at the FSBO listings on Craigslist and reach out to offer your services and give them a free consultation.
Eliminate Expired Listings
Never go ahead in this business with expired real estate listings. Listings expire due to no response of the buyers. Be creative and find a game plan that will generate exposure on these type of listings. Do not give up
Facebook offers a Hub Seller Lead Generation Opportunities
Facebook is a great opportunity to find and generate seller leads. Businesses have the option to target a specific audience to insure that it is being advertised to people that are in the market for their product.
You can look up keywords and location in the search box that is placed at the top of the Facebook profile. Give it a try!