Flowers are a wonderful decoration pieces and you feel wonderful until you try and arrange them in a vase. Trying to keep your flowers beautiful as always can be a tough task and when you are not trained in art of flower arranging it can turn more difficult. Recently, I received my roses delivery from one renowned florist – the flowers gave me great feeling but was unable to arrange it properly. Later I concerned a florist and he gave me following lesions for arranging flowers: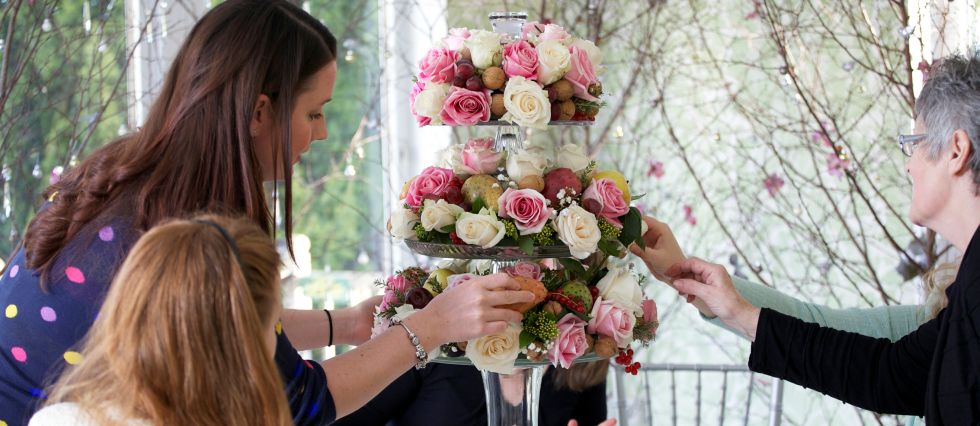 Stems Care: So what's the first thing to care about? Well, check out if anything that looks floppy. The floppy flowers should have its stems seared in a vessel of boiling water for just 30 seconds. If the stems are woody, sear it for long time.

So what's the method of doing this? Place some boiling water in a cup and place the stems in but make sure it occupies only 10% of the place in the water. Ensure the stems do not stay in water for long time else they will start cooking.

In case if your stems are quite short, you should protect the flower from the steam as it will lead to wilt. You can protect the flowers by wrapping the flower in specific part of newspaper. Searing of stems is quite important thing to learn as most of the flowers will make whole recovery afterwards.

Cut And Shape Your Flowers : If possible, you can purchase some florist scissors as they have sharper blades than regular scissors and achieve a decent finish.

To make your flowers live as long as possible and suck the maximum amount of nutrients from the water – cut their stems diagonally. Along with that cut down the leaves at lower level so that the stems can easily occupy good space.

Flower Food : Adding flower food to the water is too important so never miss this one. Flower food will essentially provide nutrients to flowers and make sure that they bloom properly. However you can buy flower food in sachets from shops or you can even make your own.

In case if you don't have enough time to go to shop, just add little bit of bleach and sugar to your water. This will stop from bacteria growth and killing your beautiful blooms. Don't add too much of bleach or you could see an opposite effect.

Versatile Flower Arrangements: The best way to arrange your flowers is to place a single stem flower into thin neck bottles and scatter some of them on your table or window sill. This arrangement looks awesome and it is even easy to maintain, but it looks good only with few flowers.

If you have different range of flowers with weak heads, then you can arrange them in a criss-cross fashion. Such arrangements are contemporary but it will even support the buds of each flower to give a fuller looked pot.

Turquoise or acid green are best colors for your pots and vases. They look great with all flowers so why not choose them over more obvious clear glass varieties. Note that it is quite simple tip to enhance the appearance. If you are thinking to arrange the flowers in a glass container then you can add colorful pebbles to the bottom to change whole appearance of flowers.

Cleanliness : If you want highlight your flowers make sure that your vase and its surroundings are clean. Most of the people stick their blossoms to the closest vase to hand without checking its cleanliness. If you want your flower arrangements to look amazingly stunning, it's essential that the vase you add flowers to should be sparkling clean.

You can use bleach or Milton tablets with bottle brush to remove dirty stains from your glass vase. Further, rinse and dry properly to stay away from contamination and smudges.
With these five helpful lessons taught, there is no possibility that your flower arrangements won't look professional. At last, make sure you add water to plants daily to increase their life span.