Many people look for work at home jobs because they are tired of long commutes and want to spend more time with their families while earning an income. Several options are available to people who are looking for ways of making money from home.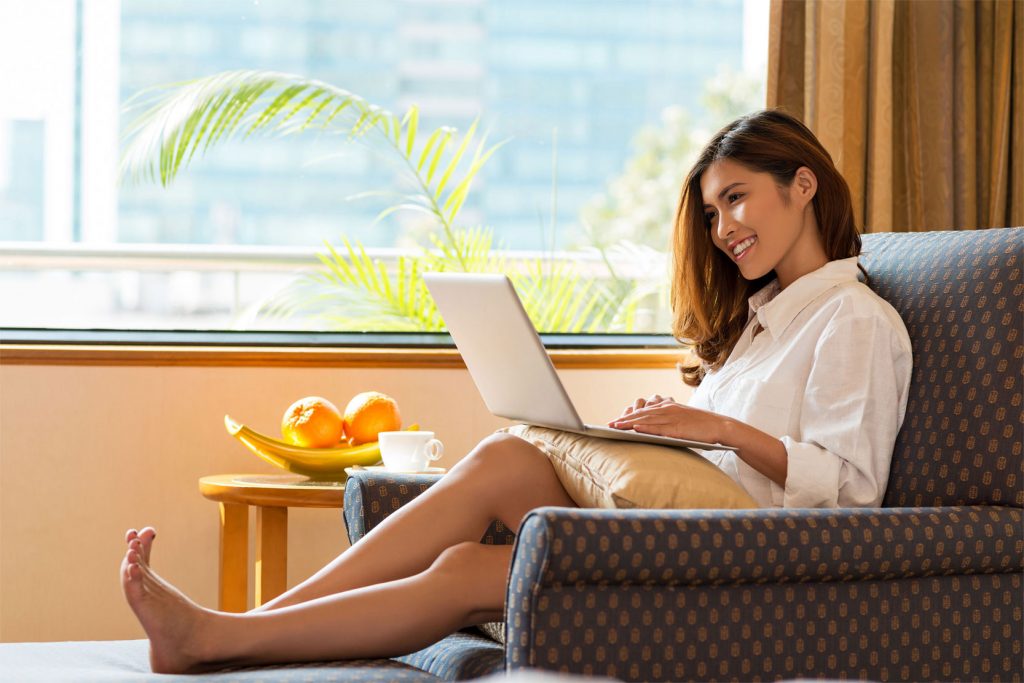 Buy and Re-sell Items
Develop a habit of visiting thrift stores and yard sales on a regular basis and looking for items to buy and re-sell later on. However, consider painting or refurbishing the items before putting them up for sale. You can sell the items in an online auction or consignment shop, have your own yard sale, or place classified ads in local newspapers.
Home-Based Business
Opening up a home-based business is one of the best ways of earning an extra income doing what you like. Running your own home-based business requires self-motivation and skills that you can use to make money. Some of the home-based businesses that you can open include home day care, tutoring classes, private music lessons, cleaning business, or freelance writing where you can write research papers for students.
Telecommuting
Many job positions offer their employees the option of telecommuting. Talk with your boss and find out if telecommuting can be a practical option for you. If you are not into running your own business from home, talk to your employer and propose telecommuting. Your boss may allow you to work entirely from home or agree to telecommuting for a few days a week.
Virtual Assistance
Apply for a job as a virtual assistant. Update your resume and include all relevant skills and experience that may help you get a job as a virtual assistant. Distribute your resume to as many companies as possible in your locality.
Desktop Publishing
Printing is still in demand since many individuals and companies need to create fact sheets, newsletters, and reports. Solicit local companies offering your desktop publishing services. Stress the importance of giving a good fact sheet for products and services and offer to write technical manuals for the companies. Many companies use desktop publishing to create fliers and other promotional media for upcoming events. Offer your services to create marketing media such as fliers and banners.
Photo Manipulation
Photography is a booming profession partly buoyed by the popularity of social networking sites. Photo manipulation is also gaining much prominence as a profession because it creates many of the images that people see in magazines and social networking sites. You can make money at home by providing photo manipulation services to local newspapers and businesses. All you need to start is a good computer with quality digital manipulating applications. Charge a fee to restore or enlarge cherished photos. However, it is important to understand U.S. copyright rules and regulations when working as a photo manipulation professional.
Correspondence Secretary
Many senior citizens and people with visual disabilities rely on others to write letters for them. This provides you with an opportunity to make money at home providing list making and letter writing services. You may contact senior citizen retirement homes and inform them about your services.
Crafts
Work from home creating personalized candy bar wrappers for special occasions including weddings and graduations. Creating personalized candy wrappers involves designing wrappers that fit the candy bars, printing them out, cutting the wrappers to size and gluing them into place over existing candy wrappers. You can also work from home creating customized coloring pages and matching sheets of stickers for pediatric hospitals and other children's institutions. You may also sell these items at local craft boutiques and supply stores.
Custom Music CDs and Slide Shows
Work from home by compiling music CDs for special occasions such as weddings and anniversaries. Consider buying a scanner to create slideshows for the occasions using photographs supplied by your clients. For example, you can use photographs of a person from birth to present day to create a slideshow for their graduation. You can also use the same technique to create slideshows for weddings and anniversaries. However, do not violate copyright laws when creating custom music CDs and slideshows.
Become a Seller or Distributor
The Internet provides various options for working from home. Register as an affiliate seller or distributor for various companies. Educate yourself about online affiliate selling and distribution by reading trade publications and industry journals. Investigate product categories and specialize on the products you know or are passionate about. For instance, specialize in athletic wear if you are a sports enthusiast. Finally, raise the capital you need to start your retail distribution company and make sure you acquire all relevant licenses.